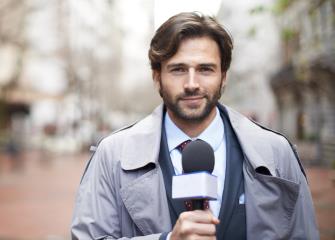 Move Forward and Prosper
Stay Stuck and Pay the Price
My last several blogs explained the need for original stories in every newscast. That was confirmed again, in a series of focus groups I moderated two weeks ago. Each member of the group said they already knew all of the headlines before news time. That often led to a decision NOT to watch. I wanted to know what would encourage them to view a linear newscast. The vast majority said they wanted in-depth reports. Human interest stories were a distant second. As an industry, we have known this for years, but done nothing.
The client believed that creating a significant amount of original content would be easy. I kept thinking, "If it were that easy, why you haven't done it?"
Think about it. There is no incremental cost. Reporters just need to cover stories that are not predictable. They do NOT need to cover MORE stories. They need to develop a knack for producing ENGAGING stories. Sounds easy, right?
But, obstacles abound:
Leaders have to lead. Enterprise reporting requires a 100% commitment from the top.

To go from covering the day's police blotter and media release news to enterprise journalism requires a culture shift in the newsroom. Leaders should recognize:
If you change what your staff knows, you will change how they think.
If you change how they think, you will change how they act.
If you change how they act, you will change the culture.
Does your team really understand what is happening to the linear TV's bottom line? How many of them really think their salaries may fall because of declining sales revenue? Have you done your part to make sure they know today's reality? Change the culture, and then work on your style of original reporting.

Here are some examples:
Forget details of President Trump's tariff war with China. Start where the viewers start. What does the tariff mean to me? Do the viewers face higher prices, or better job opportunities in their communities? Oh, and by the way, what is going to happen to all of the tariffs we collect? The President has called for a wall on our southern border. He claims the wall will be quite nice. Are the tariffs paying for the wall, or are the potholes on my city's streets getting fixed? We, local as journalists, can provide LOCAL answers.
Let's stay on potholes. What does it takes to fix a mile's worth of road in Cleveland versus Detroit versus Pittsburgh? What is the reason for any difference?
Back to the wall and illegal border crossings: Mexicans are going to Canada, but the US is short staffed on its northern border. That means that illegals are also coming in. What is the impact on border cities like Buffalo and Detroit? Spend some time with ICE, and find out who is crossing the northern border illegally.
I recently heard an Air Force General on the west coast say that half of his F-16s would not fly, because of a lack of parts. It got me thinking about how many of the mechanics at the Air Force reserve base near Buffalo don't have much to do.
The point of all of this is you must get people think about how to create original reports. It is the only way you will bring people back to local news. The alternative is not pretty,
e rest of the content goes here.